I've always been a HUGE fan of Neil Diamond and got to see him several times in concert over the years.  Recently I came across some information about his Malibu house … apparently it was put up for sale in February 2011, though I couldn't find any information on whether or not it sold (SEE UPDATE AT THE END OF THIS POST).  The actual listing was nowhere to be found, but after some lengthy research, I was able to find the photos and property description:
One of the most prestigious Malibu Colony estates situated on a rare double lot encompasses 60 feet of prime oceanfront takes full advantage of luxury beachside living. Designed for indulgent entertaining and lounging, this exquisitely furnished masterpiece boasts 6 bedrooms and 6 baths which includes a detached two-room guest cottage and maid's quarter with separate entry. The lush inviting courtyard leads to a captivating formal living room with fireplace and walls of glass highlighting the grand patio complete with spa and private sundeck with direct access to the white sand beach. The exceptional tea room is bathed in light with incredible exposed beam ceilings, limestone fireplace and walls of glass that frame the stunning coastline views. Retreat into the deluxe master suite and enjoy the stellar beach views from the private balcony or relax in the sumptuous master bath equipped with spa tub, fireplace and expansive walk-in closet. Other amenities include a 3-car garage, laundry/mud room and deluxe media capabilities (tenant responsible for cable/satellite, electric & alarm). Offering ultimate privacy, this exclusive community offers 24-hour guard gated security and private beach access. $27,500,000
Quite an asking price, no?  It's interesting to look at the listing photos, though it's very obvious that the house is unoccupied … there are absolutely no personal effects, everything is TOTALLY neutral, and you can even see the vacuum cleaner marks in the carpets!
I searched far and wide to find ANY photos of the interior of the house when Neil and his first wife (now ex) lived there, but found only one:  Neil and Barbara Walters on the patio during her 1985 interview with him, though I did find a video of Neil's Christmas Party that was held in the Malibu house in 2009 where many lucky fans from all over the world won a contest and got to meet and greet with Neil himself!
First, the Neil/Barbara photo and the video … then the listing photos below.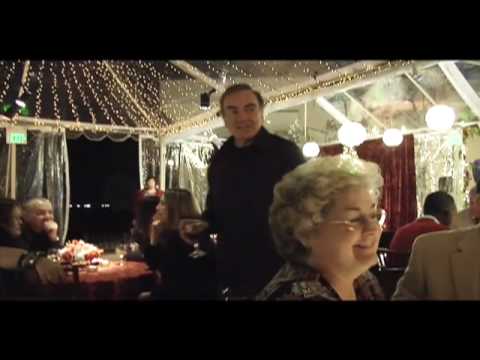 The living room is where the 2009 Christmas party was basically held … obviously cleared of living room furniture and expanding out onto the patio which was tented.
Continuing into the bedroom areas … lots of beige!
What a view to enjoy while getting ready in the mornings (or anytime)!
This closet is bigger than most people's bedrooms …
A gorgeous place to soak up the sun on the Malibu beach …
Of course, there's direct access to the beach.  Makes one wonder about easy access for those strolling the beach, as well.  Definitely lots of very close neighbors, though I'm sure they're all very respectful of privacy.
Some beautiful night shots.
Great place to watch … James Bond? 
This is the only part of the house that really surprised me.  I would have totally expected a more upscale kitchen.  This one looks like many cookie-cutter kitchens you see in new construction … not something you'd expect in a $27,000,000 house.  It just doesn't seem to belong here.
Hope you enjoyed the tour!
UPDATE 4/17/12:  According to information available on the house at Zillow.com, it was sold in May 2011 for $21,450,000 and is available for rent at $200,000 per month.  Any takers?